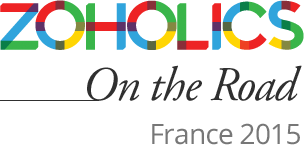 Zoho quiere conocer sus clientes en los diferentes mercados nacionales por medio de Zoholics On the Road. Ya habíamos anunciado Zoholics México 2015. Ahora tenemos el gusto de invitar nuestros clientes Frances a Zoholics On the Road France 2015 en asociación con ZSphere.


Zoholics es la oportunidad de conocer mejor las diferentes aplicaciones Zoho. Podrá conocer al director Sridhar Vembu. Sus pláticas sobre cloud computing y las tendencias futuras siempre son muy interesantes. Se esperan algunos anuncios específicos sobre el mercado Europeo.

Este evento se llevará a cabo el 10 de Marzo del 2015 en la Chambre de Commerce et d'Industrie en Nanterre.